Top 10 Famous Indian Journalists
Navigating the Fourth Estate: A Spotlight on the Top 10 Famous Indian Journalists
Journalism in India has witnessed a profound evolution over the years, with a plethora of talented individuals making significant contributions to the field. From fearless investigative reporting to impactful storytelling, Indian journalists have played a crucial role in shaping public opinion and bringing about social change. In this article, we delve into the lives and achievements of the top 10 famous Indian journalists who have left an indelible mark on the nation's media landscape.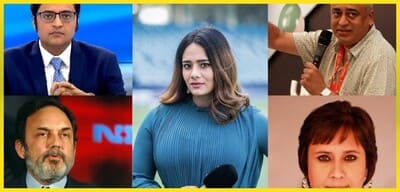 Barkha Dutt: A trailblazer in the world of broadcast journalism, Barkha Dutt is known for her fearless reporting and insightful analysis. With a career spanning over two decades, she has covered critical events, including the Kargil War, and has received numerous accolades for her contribution to journalism.

Ravish Kumar: As the senior executive editor of NDTV India, Ravish Kumar has emerged as a prominent voice in Indian television journalism. Known for his in-depth reporting and unbiased analysis, Kumar has been honored with the prestigious Ramnath Goenka Excellence in Journalism Award.

Rajdeep Sardesai: A veteran journalist and author, Rajdeep Sardesai has made significant contributions to Indian journalism. As the Consulting Editor at India Today, he has covered major political events and conducted high-profile interviews, earning him recognition and respect in the industry.

B.G. Verghese: Late B.G. Verghese was a distinguished journalist and editor known for his editorial acumen. He played a crucial role during the 1971 Indo-Pak war and was associated with leading publications, including The Indian Express and Hindustan Times.

Shekhar Gupta: Shekhar Gupta is a celebrated journalist and the founder of ThePrint. With a career spanning several decades, Gupta has been a witness to and chronicler of India's transformative journey. His analytical pieces and editorials are widely acclaimed.

Ritu Sarin: An investigative journalist and the Executive Editor of The Indian Express, Ritu Sarin has been at the forefront of groundbreaking exposes. She has received several awards, including the Ramnath Goenka Award for Excellence in Journalism, recognizing her commitment to truth and integrity.

Prannoy Roy: As the co-founder of NDTV, Prannoy Roy is a stalwart in Indian television journalism. With a background in economics, he has brought a unique perspective to his reporting and has been honored with the Padma Bhushan for his outstanding contribution to broadcasting.

Nidhi Razdan: Nidhi Razdan, a familiar face on television, has been associated with NDTV for many years. Her incisive interviews and reporting have earned her acclaim, and she continues to be a prominent figure in the world of political journalism.

P. Sainath: Renowned for his focus on rural issues and agrarian distress, P. Sainath is an award-winning journalist and the founder-editor of the People's Archive of Rural India (PARI). His commitment to grassroots reporting has earned him the Ramon Magsaysay Award.

Sagarika Ghose: A well-known television anchor, author, and journalist, Sagarika Ghose has made a mark in political journalism. Her insightful commentary and commitment to objective reporting have solidified her position among the prominent voices in the Indian media.
Conclusion:
These ten journalists have not only shaped the narrative of Indian journalism but have also set benchmarks for aspiring journalists. Their fearless pursuit of truth, commitment to unbiased reporting, and ability to navigate complex issues have made them stalwarts in the industry. As the media landscape continues to evolve, these journalists serve as inspirations for the next generation, showcasing the transformative power of journalism in the Indian context.