Things To Do At Anjuna Beach, Goa In 2023
Exploring the Vibrant Charms of Anjuna Beach in Goa
Nestled along the picturesque coastline of Goa, Anjuna Beach stands as a testament to the diverse attractions this vibrant Indian state has to offer. While it's renowned for its association with the hippie culture of yesteryears, Anjuna Beach is far more than a nostalgic trip down memory lane. With its blend of natural beauty, water sports opportunities, pulsating nightlife, and cultural richness, Anjuna Beach has transformed into a multifaceted destination that caters to a wide spectrum of travelers.
A Tapestry of Nature and Culture
Stretching nearly 2 kilometers along the Arabian Sea, Anjuna Beach has evolved from its hippie origins into a haven for families, water sports enthusiasts, and culture seekers. The beach's allure is not confined to its sun-kissed sands and sparkling waters; it extends to a fusion of experiences that define modern-day Anjuna.
The past meets the present on this beach, where you can laze under the sun's gentle warmth during the day and then immerse yourself in the vibrant nightlife as the sun sets. A testament to this nightlife is Paradiso, one of Goa's most popular nightclubs, situated right on the shores of Anjuna Beach. Here, the rhythms of music and dance echo the historical blend of Eastern spirituality and Western artistry that once attracted the hippie community.
Daytime Pleasures and Retail Delights
Anjuna Beach's charm isn't limited to the night; it shines brightly during the day as well. With popular beachfront eateries like Curlies, visitors can indulge in delicious cuisine while basking in the coastal ambiance. For those with an affinity for retail therapy, the Wednesday Flea Market is an enchanting affair. This market pulses with life and color as stalls offer everything from intricate sculptures and boho jewelry to vibrant t-shirts and aromatic spices.
The Symphony of Water Sports
Adventure seekers find solace in the plethora of water sports that Anjuna Beach offers. From the adrenaline rush of jet skiing to the exhilaration of parasailing, the ocean becomes a playground for those seeking thrills and spills. The waters teem with opportunities for banana boat rides, bumping rides, water scooters, and more.
A Nightlife Like No Other
Anjuna's nightlife isn't just confined to the dance floors of nightclubs. The beach itself transforms into a realm of cultural marvels during the nights. Full moon parties, exotic fire shows, and cultural delights make the nighttime experience truly unforgettable. The Christmas and New Year's Eve celebrations amplify the revelry, with DJs spinning tunes, drinks flowing, and dance floors alive with energy.
Where to Stay in Anjuna
Anjuna Beach offers a diverse range of accommodations to suit various preferences. From traditional villas and heritage properties that exude charm to modern hotels that offer contemporary luxury, the options are aplenty. Nearby villages like Oxel and Siolim provide additional choices, including service apartments for those seeking a home-away-from-home experience.
A Journey Worth Making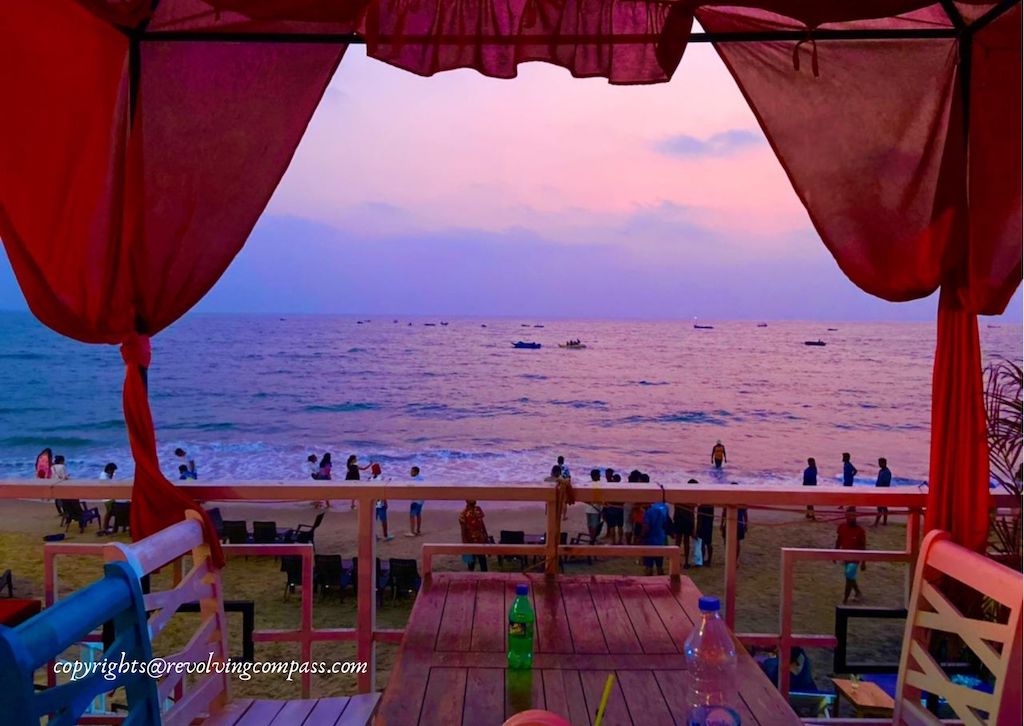 The best time to experience Anjuna Beach's multifaceted allure is between November and March, when the beach shacks are in full swing and the parties are at their peak. To reach Anjuna Beach, one can easily access taxis or auto-rickshaws from Panaji, located about 18 km away.
Beyond the sands and waves, Anjuna Beach beckons with its cultural treasures. From the historic Shri Ram Temple to the captivating Chapora Fort, visitors can explore the region's rich heritage. Nearby attractions like Baga Beach, Calangute Beach, and the Museum of Goa offer further insight into the area's diverse offerings.
Anjuna Beach in Goa encapsulates the essence of the state's tourism—breathtaking nature, diverse activities, vibrant nightlife, and a blend of tradition and modernity. Its journey from a hub of hippie culture to a destination that appeals to a wide range of travelers showcases its adaptability and allure. Whether you're a nature lover, an adventure enthusiast, a culture seeker, or a partygoer, Anjuna Beach promises an unforgettable experience that intertwines the past and the present in a tapestry of beauty and excitement.